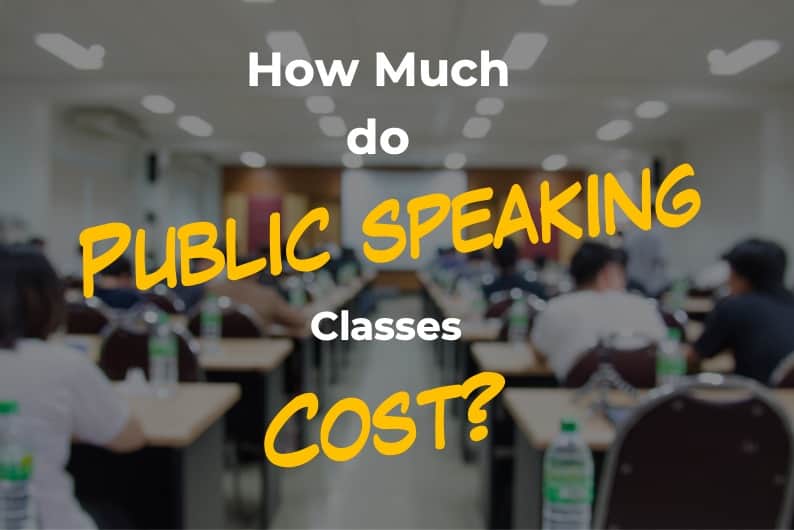 For some people, public speaking comes easy, for others, training, classes, and a little jolt of courage is needed. Being able to speak publicly is a skill. Luckily, this skill can either come naturally and if not, it can be taught. It also has a wealth of benefits. If you want to take up some public speaking classes but want to know how much they cost, we have the answer.
For a good public speaking class, the average starting price is $1999. It is best if you budget slightly more just in case you run into some extra costs. You can find some cheaper courses that start at $300 and finally, some places offer single sessions starting as low as $35 per lesson.
Whether it is for a wedding in which you will be giving a speech or if you need to give a presentation at work. Going for public speaking lessons can help you achieve a good level of confidence. This confidence will be noticed and you are more likely to impress the crowd with it. So, let's get into the article.
How much do Public Speaking Classes Cost? (Detailed Answer)
Not all classes cost the same. There are multiple factors that can influence the cost of public speaking classes.
If you shop around you will find some that cost more than others. You also get single-session classes where you just pay per class. Let's take a look at the cost for each of these. First, let's take a look at some factors that determine the price of the classes.
Location: You will generally pay more if you live in a more populated city/state. This is due to supply and demand.
Lecturer experience: Generally, the more experience a lecturer has, the better the classes will be. That said, the less experienced lecturers can sometimes be better as their techniques can be more updated.
The length of the classes: Most classes are around the same length. For universities, they are generally shorter at around 12 hours in total. We will get to the durations further down in the article.
How much do Good Quality Public Speaking Classes Cost?
The starting price for good quality public speaking classes is between $1800 and $1900. If you find that you have the time and money for this, I would definitely recommend paying the premium fees.
These classes will give you a great headstart in your careers or give you the skills to further an already good looking career.
How much do Single Lesson Public Speaking Classes Cost?
Sometimes you get little pop-up classes. They are normally single session lessons and are aimed at giving you the fundamentals of public speaking. The lessons can start at as little as $35 and go up to $500. The more the lessons cost, the more extensive it is usually.
If you are short on time, this is the way to go. You will still gain some valuable skills. These classes tend to be jammed with information and it is delivered fast. So, you will need to pay extra attention in class.
What is the Duration of Public Speaking Classes?
Most public speaking classes will take around 2 days. The classes themselves last for 6 to 8 hours a day. There are breaks in between and with the more premium classes, you often get lunch included. With almost all the classes, including the single session, budget-friendly, and premium classes, they all include snacks and coffee.
If you need to take leave for the classes, I recommend taking at least 3 days off. This is so that you do not feel rushed.
What do they Teach at Public Speaking Classes?
If you are caught in two minds on whether or not you should take the classes. Maybe knowing what gets taught during the lessons will help you decide. Let's take a quick look at what you will learn if you decide to enroll in public speaking classes.
How to convey confidence.
How to capture the attention of your audience.
How to structure your speeches.
How to be as informative as possible without being boring.
How to engage and entertain your audience.
How to speak in a way that makes your speech more absorbable for the audience.
Obviously all classes are different from each other but this is generally what most of them teach. Some might teach more and some might teach less. During the sign-up process, most institutions will give you a breakdown of what is included in their classes.
Who Should Take Public Speaking Classes?
Public speaking classes have always been aimed at professionals who want to further their careers. It is easy to say that anyone who struggles with confidence and forming the structure of their speeches should take it, this is true but there is more to it.
Anyone who gives presentations at work will benefit from public speaking classes even if that person is confident. When we give presentations, we need to capture our audience before the slides even start.
If you are going to accept a reward and have 2 or 3 days to prepare, you are a good candidate for the classes. Have to give a speech at a wedding or any event, why not go for some classes?
Students who are starting out at university or college should also consider taking these classes. Luckily, a lot of universities, like the University of Washington, offer classes for students. They are short 12-hour classes aimed at preparing students and, sometimes, professors, for university life.
Basically, everyone should do it. It takes up 1 to 3 days of your life and the benefits will last forever. This takes us to the next sections.
What is the Value of Public Speaking Classes?
We live in a very competitive world. There will always be someone who can do the same job as you and to be honest, our jobs are never really secure.
Public speaking classes can help professionals make an impact at work and impress their peers and colleagues. Also, for sales-people, it can help you achieve and surpass your targets by helping you communicate with your clients.
It can help you make good impressions at family or public events such as weddings, conferences, and award ceremonies.
We also covered this in detail in another post that you may find of your interest. Do give it a read!
I will be honest, there is almost nothing worse than going up to accept an award and not knowing what to say. Being able to capture the audience can help you prove why you deserved the award in the first place.
Final Thoughts
We learn a lot of lessons just by going through our daily lives but there are some instances where we need to go out and learn something via classes. Public speaking might seem like something that we can teach ourselves or that we are naturally born with but, it is not just about "being confident" or "having a great personality".
I say, go out there, do some classes and gain some valuable knowledge that can help put you ahead of your competition. Who knows, maybe it helps you get that promotion at work or those extra marks at school. Be sure to bookmark our site as we upload content regularly, content aimed at making your professional life, a little bit easier